Here's the inside of mine, funny I only had eight screws.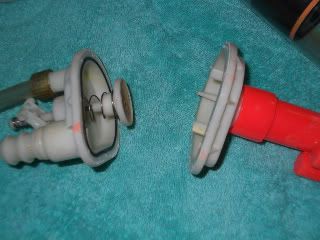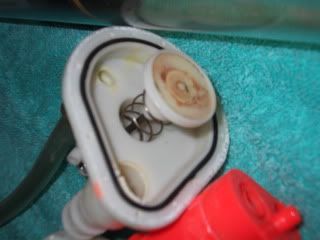 There is a rubber...I'm gonna call it a gasket about 1/16th of an inch under the screw holes (about 1/4 of an inch from the outside). There shouldn't be any glue on or past that. I would suggest cutting down a tiny bit past the screw holes if you haven't already. Then insert a small flat head screwdriver and gently begin to pry it all the way around.
If that doesn't work you can try submerging it in hot (but not boiling) water, that will help weaken the bond.
Sorry if my first post wasn't very descriptive/helpful. Mine just kind of popped apart unexpectedly before I could even change out my box knife for my hacksaw, so I guess I assumed it would be that easy for everyone. My bad.
Turns out my problem was the rubber washer at the end of the trigger pin, or lack thereof. It fell out as soon as I got it apart, and it appears too badly warped to do it's job anymore. I just hope Ace sells a replacement.