So, I just decided to make a homemade when my friend decided to have a "water gun fight" at his birthday. I was like "I'm going to make one and PWN YOU ALL." After looking for a long time and deciding which way to go, I chose a combination of RolandTower's backpack design and the xinventions water cannon (from the "Homemades" page). Basically, it's just two 2-liter soda bottles acting as PCs and then a gun-firing nozzle part attached by flexible hose. Since I've messed around with it, it seems pretty cool.
It's made of 1/2" PVC pipe, uses PVC ball valves for filling and firing. Right now, I plan on adding an external, detachable pump, to make it a "backpack APH" (you get the idea, right?). I have a bike pump hooked up to a hose connection, it connects to the hose connection on the ball-valve near the bottles to pressurize it. I usually only go up to 40 psi , mainly because of an incident* I had one time. The pressure drops off way-too fast, but it's fine for me.
Stats:
Range = around 30 feet
Capacity = ~4 liters
Weight (empty) = I'd say around 1-2 pounds
Cost = $20
Feel free to ask for anything else; I'll try to get if if you want.
Pictures: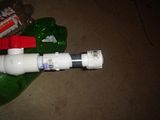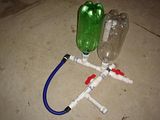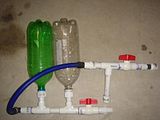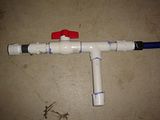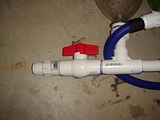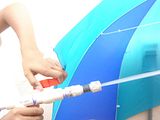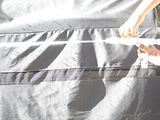 The shot pics from left to right: 1/4", riot blast (fill valve), 3/32", 1/8" tapered
Some of the highlights:
- The whole thing was under $20 or so because I didn't have to buy and large diameter pipe for the backpack part (The Home Depot I went to didn't have any anyways)
- If I wanted to, I can detach the nozzle-part, plug the hole, and use the backpack section alone. It's fun to just fill it up, pressurize it, then open the fill-valve to empty it on something
- The use of threaded connections makes it easy to customize
Some of the problems:
- * "The incident"- On my second day after building it, I was playing with my w. gun. I filled it up to about 2 liters, and then I pressurized it to 60 psi. I set it down to work with something, and thats when it happened. The tanks fell over, and the one of the couplings I was using to connect the bottles to the main manifold broke apart. The 60psi of pressure, the stress from over tightening of the coupling, and the force of the impact sent the bottle flying over the fence nearby. Soaked and in awe, I walked over and picked up the bottle. If you look below the bottles, you ca see the coupling that broke. I ended up with the male-end in the manifold and the female end screwed on the mouth of the bottle.Luckily, All I had to do was push them back together with a vice.
- 4-liters of PC isn't enough
- IT TAKES TOO LONG TO FILL!!!!
- Torque arms needed
Overall, it works pretty well. Until next weekend, I'll leave it as it is. Feel free to ask anything about it, I'm open to questions and (good or bad) comments.
Thanks,
aEx155
P.S. I'm a newbie at most of this, but that may be because I'm only 13....