ive smoothed that candle and it is really perfect, it has an id of 1/2 now and its ready to use
EDIT: im am making it right now and it seems to be going very well pics soon!!!
EDIT2: it is finished, a long night indeed. i had to paint on the remaining liquid as parts got scrapped off and it wasnt looking good. painting it got the remaining cracks out but it left a VERY uneven surface here is progress:

After a few dips

Getting thicker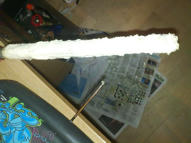 just finished painting it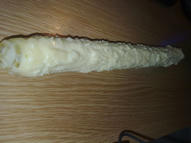 Finished, dry product. sadly the candle wouldnt come out normally so i had to break it then squeeze parts out.
Stats:
ID: a bit more than 1/2in
OD:~1in outerwall is uneven
Wall thickness:~1/4in also uneven from outside
Expansion
dont know yet i tried putting it on the sink, on low pressure and it slightly expanded but water came out from the top even if i held it...so i think its tough
Time taken, 4-5hrs
Length:9.5in