First of all, the title is not a typo. This is not my CPH. I'm not building that until this winter. This is just something I decided to make in between so I wouldn't get bored. It's not a very serious project.
Here is a drawing. For some reason I couldn't upload my saved PVC designer picture on my photobucket account, so I had to use paint. But don't worry, I learned a few tricks, so the picture is a lot better then my APH picture.
Here you go.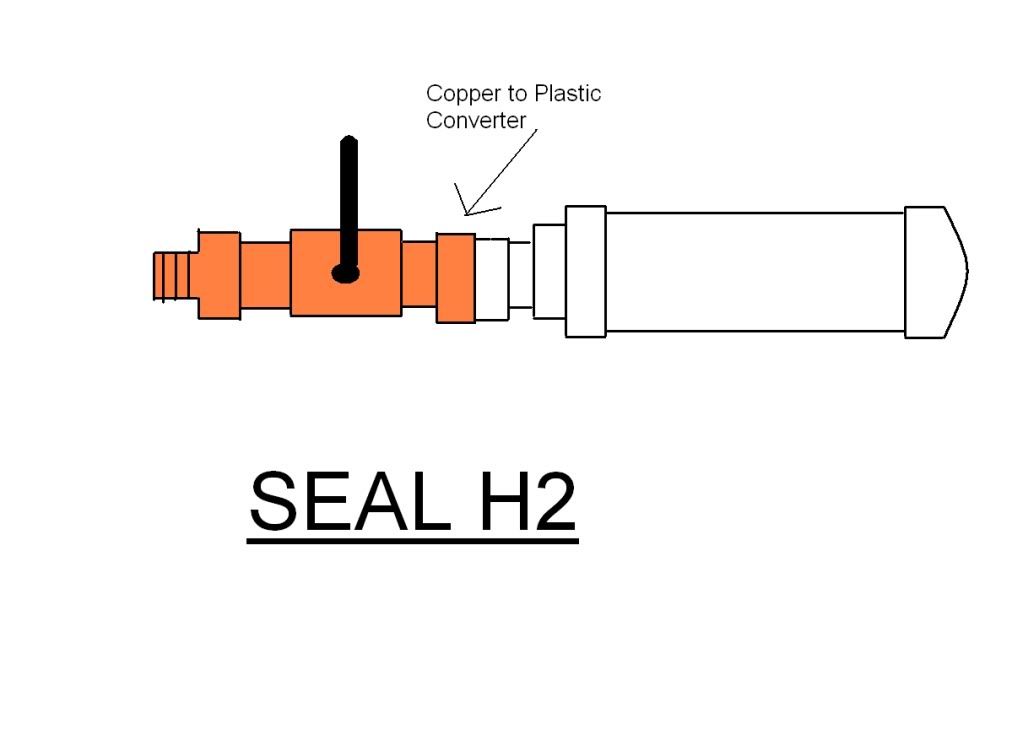 Note: The goldish parts are copper, and the white parts are PVC. It's not to scale.
SCH stands for Super Charger Homemade. It's basically a homemade that has to be charged by the hose. A 2L would fall under this category. (The kind that I made anyway.) If nobody has used this term before, or if there isn't a different term for this kind of blaster, then I'd like to coin this term.
Originally, I wanted to make the whole thing out of copper, 'cause I had some copper pipes laying around, and I could use a copper ball valve without buying converters. But I wanted to use 3" pipe for the reservoir, so I looked in Lowes, but the biggest I found was 2" which was insanely expensive at $130.00 or something like that. So I figured if they did make 3", it would be even more costly. So I decided to make the reservoir out of PVC, and the valve and front of the gun out of copper. The front will be 3/4 inch, and the reservoir will be 3".
I have 3/4" copper and PVC, and 3" PVC. The only things I need are the bushings, a 3" endcap, and a copper 3/4" ball valve and male adapter. (For the hose.) I plan on using the same refilling hose as my 2L.
Now the big question I want to ask you, is will it work? I know you need to have an air pocket in the reservoir. Will this shape work? If not, I have a backup plan. It should work though, the CPS Splashzooka has the same shape.