Ok guys, i think im done with this aph, it was a great experience building it but i dont really think it would be worth adding anything more to this other than a nozzle or 2. i will add pics of it firing sorry for the delay but i cant count on british weather if you know what i mean.. when i take pics i will put food colouring in the water so you can see the water better.
Stats:
PCs:1
PC Capacity: 500-600ml (i change the bottle sometimes)
Pump Volume: 85ml (i didnt include the full length of the pump shaft because i dont go so far when pumping)
Length: 58cm/~23in
Resvoir Capacity: 5l (Back pack)
Maximum Ranges: (to last puddle)
3.5mm: 42ft 5sec shot time
7.0mm: 25-30ft 2.5sec shot time
15.0mm: 32ft (not really a nozzle just riot blast) <1 shot time
Pros:
Decent range
Streams are good
good backpack capacity
Not that heavy
Good pump volume
Cons:
Bulky
PC Capacity low
Too tall
Bringing water from Res to gun takes a long time (i dont know why)
The pump sometimes dies...
it could have been better if i had realised what a hack it was to get the pc to work and the cost of buying everything (~50£) maybe i could have planned it better. my next gun will be a backpack cps and i will build it soon. heres some pictures: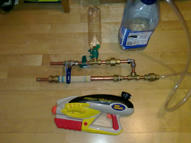 The whole thing with a black widow to compare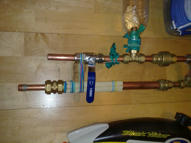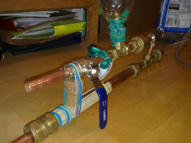 LOL the top of gun held by a cork and some rubber bands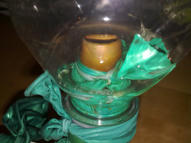 The master piece of balloons the only thing i could use them for...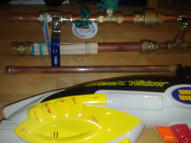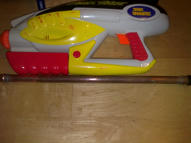 The pump is longer than the widow...thats just how awesome it is
Thats it for now, i will add firing pic for this, thanks for all the help!